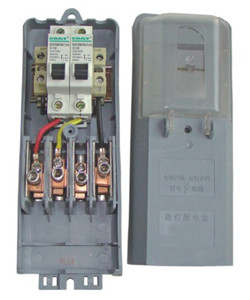 SJDZ-4
Application:
SJDZ, SJDR, SJDJ series of Road lamp wiring box, widely used in airport, Highway, tunnel, bridge, road and residential quarters and other lighting distribution engineering.
Characteristic:
SJDZ, SJDR, SJDJ series of Road lamp wiring box having contact with stable performance, simpleconstruction, maintenance more convenient, Flameretardant, excellent insulation performance, the advantages of safe and reliable.
Installation Instructions:
The box cover is opened, the bolts are loosened, the three Phase four wire power leading-in and leading-out thrum. Marginal layer strip around 35mm, into power Line inlet and outlet hole, screw bolts, the circuit breaker Or a fuse wire connecting terminal with street lamp, Close the box lid.
Technical and economic analysis:
SJDZ, SJDR, SJDJ series of Road lamp wiring box of research and development, in the cityconstruction has been widely applied.

1, its technical performance of the foreign product structure reasonable, flame retardant, good insulation properties, good electrical conductivity,With GB14048.1, GB / T5169.11-1997 regulations;

2, small volume, light weight, safe and reliable operation, convenient installation, fault is close to zero, thereby greatly.High productivity;

3, the price is 1/2 of similar products abroad, although slightly higher than the domestic old-fashioned traditional lamp wiring board,But from the life, the economic indicators
are lower than the traditional road lamp wiring board;

4, city streetlight renovation is badly in need of replacement products, the use of Road lamp wiring box, completely changed the city street lampsRod connector" dirty, random, poor" phenomenon, and literally changed the people's life quality.
Model Specification

Dimensions
(L*W*H)

SJDZ-4

258*88*90

SJDR-4B

258*88*90

SJDR-4

265*80*85

SJDR-2

190*80*80

SJDJ-4

140*80*75